1 In Every 3 Children In Mumbai Municipal Schools Malnourished, Up 4 Times Since 2013-14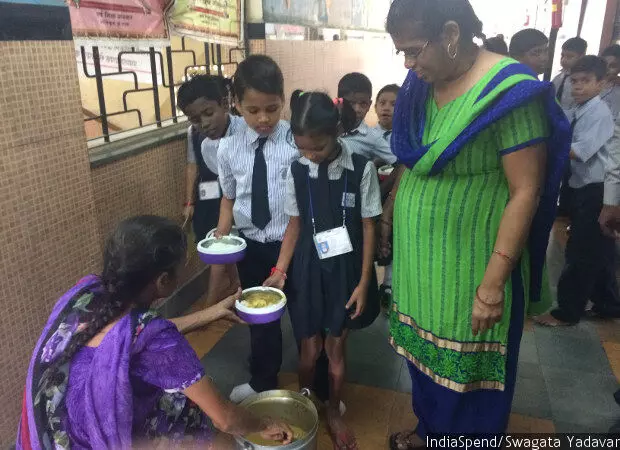 Despite an extensive mid-day meal programme, a third of children in schools run by India's richest municipal corporation in India's richest city, are malnourished, according to a new report that quotes the corporation's own data, obtained through a right-to-information request.
Malnutrition has increased more than four times in Mumbai, from 8% in 2013-14 to 34% in 2015-16, according to the report released on May 30, 2017, by Praja Foundation, a nonprofit focussed on governance, even as the city leaves a rising proportion of its mid-day meal budget unused.
The malnutrition was revealed during routine health checks conducted in Brihanmumbai Municipal Corporation (BMC) schools.
"We cannot compare Mumbai to Shanghai if many wards in Mumbai have malnutrition rates worse than sub-saharan Africa," said Nitai Mehta, Founder and Managing Trustee of the Praja Foundation.
Malnutrition and diet are now the largest risk factors globally for disease and represent losses upto 10% in gross domestic product (GDP), greater than the loss sustained during the 2008-10 global financial crisis, according to the 2016 Global Nutrition Report.
Up to 36% (383,485 ) of more than 1 million children in Mumbai are enrolled in government schools, according to 2015-16 District Information System for Education (DISE) and BMC figures.
Of the children in BMC schools, almost half (189,809) were screened by the school health department and 64,681 were found to be malnourished in 2015-16. Officials estimated that there were are 130,680 malnourished children in BMC schools.
Malnutrition In Mumbai Municipal Schools
Parameter
2013-14
2014-15
2015-16
Boys
Girls
Boys
Girls
Boys
Girls
Total students
201,965
202,286
199,033
198,052
192,652
190,833
Screened students
76,175
80,836
97,825
103,772
92,258
97,551
Malnourished students
4,938
6,893
26,170
27,238
30,459
34,222
Malnourished students (In %)
6%
9%
27%
26%
33%
35%
Estimated malnourished students
13,092
17249
53,245
51,985
63,604
66,946
Source: Status of Malnutrition in Municipal Schools in Mumbai
Students were malnourished even though 83% and 95.1% of government and aided schools in Mumbai city and its suburbs, respectively, had a mid-day meal programme, according to the DISE.
"This raises serious questions on the efficacy of the ICDS (Integrated Child Development Services) and other schemes aimed at improving the nutrition of children," said Milind Mhaske, Project Coordinator, Praja Foundation. "If children are malnourished in their early years of schooling, then it means that the gap in the schemes need to be identified."
More girls malnourished than boys
More girls (35%) were malnourished than boys (33%) in 2015-16. The corresponding percentages in 2014-15 were 26% girls and 27% boys and in 2013-14, 9% boys and 6% boys.
The highest proportion of malnourished children in 2015-16 among municipal schools was found in grade I—42% for boys and 43% for girls. Most join schools from anganwadis (courtyard shelters or creches), run under the ICDS, which is one of the world's largest child-health programmes.
In 2015-16, 25.5% of children under the age of five years were stunted (less height for age) and 25.8% were wasted (less weight for height) in Mumbai City and 21.3% were stunted and 20.3% wasted in the Mumbai Suburban District, according to the latest health data available from the National Family Health Survey, 2015-16. The BMC malnourishment data reveal that the health of students does not improve as they grow up.
As diarrhoea rises, so does malnutrition
The rise of malnutrition among students at BMC schools is correlated with a rise in diarrhoea cases reported to Mumbai's health system, said the authors of the Praja Foundation study.
Diarrhoea cases increased from 99,838 in 2011-12 to 119,342 in 2015-16, according to a white paper on health published in Praja in 2016.
Also, 29% of diarrhoea deaths in the year 2015 were children younger than 14.
Malnutrition rises in higher grades
An estimated 73% of malnourished children in 2015-16 studied between grades I to V, higher than lower in grades.
Over a year to 2015-16, malnourished students in grade I increased from 3,123 to 10,802--a rise of 246%.
The number of malnourished children in grade V increased from 2,591 to 10,562--a rise of 308%.
Mankhurd and Govandi, areas with most malnourished school children
The poor, eastern suburbs of Mankhurd and Govandi--areas packed with slums--reported the highest number (15,038) of malnourished children in 2015-16. Together, these areas comprise what is called the M/E ward, which has Mumbai's lowest human development index (0.05), according to the 2009 Mumbai Human Development Report.
M/E ward is followed by H/E (Santacruz) and L (Kurla), with 9,100 and 6,586 malnourished children, respectively.
No shortage of money, budgets remain under-utilised
Despite the growing malnutrition rates among its children, there does not appear to be a shortage of money to address the problem.
The budget estimates for the mid-day meal programme rose 10.3% from Rs 29 crore to Rs 32 crore for grade I to V, and 18% from Rs 33 crore to Rs 39 crore for grades VI to VIII, between 2013-14 to 2015-16.
But the proportion of the budget used for grades I to V fell from 81% to 65%, and from 83% to 64% for grades VI to VIII between 2013-14 to 2015-16.
Source: Status of Malnutrition in Municipal Schools in Mumbai
(Yadavar is principal correspondent with IndiaSpend.)
We welcome feedback. Please write to respond@www.health-check.in. We reserve the right to edit responses for language and grammar.
__________________________________________________________________
"Liked this story? Indiaspend.org is a non-profit, and we depend on readers like you to drive our public-interest journalism efforts. Donate Rs 500; Rs 1,000, Rs 2,000."