0.21% Of Infrastructure Projects In Health Sector, Reflecting Low Priority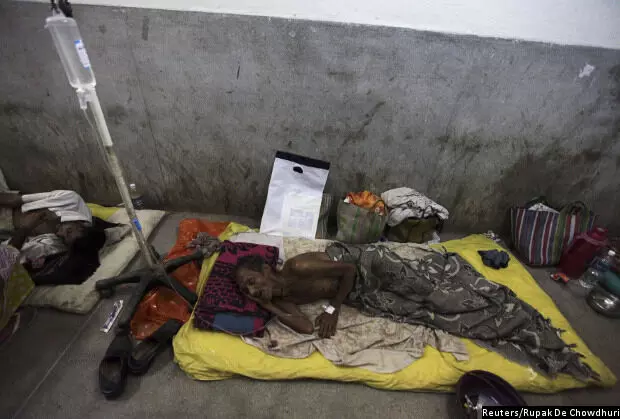 Patients sleep in the corridor of a government-run hospital in the eastern Indian city of Siliguri. The lack of health facilities in India's villages reflects the low investment.
Of the 4,000-odd multi-crore infrastructure projects in the country, only nine (0.21%)—with a total investment of Rs 938 crore - are in the health sector, according to data published by the Ministry of Finance.
The public private partnership (PPP) projects range from diagnostic centres to super-specialty hospitals.
The investments in the health sector are far lower compared to those in the transport and energy sectors.
The lack of health facilities in India's villages reflects the low investment. About 20% (35,389) of the 182,709 public health facilities in rural areas do not have their own premises, according to a 2014 rural health statistics report.
There was a shortage of 6,700 (23%) public health centres and 2,350 (33%) community health centres as of March 31, 2014, according to data tabled in the Rajya Sabha.
Government spending on health has come down from Rs 37,000 crore ($5.5 billion) in 2013-14 to Rs 30,000 crore ($4.5 billion) in 2014-15.
Although India spends around 5% of its gross domestic product (GDP) on health, only 1% of it comes from the government, Dr. Gita Sen, a policy expert, said. "You cannot combat diseases like malaria, tuberculosis and HIV with a public spending of 1%."
India spent $69 per capita on health in 2013, the lowest among developing nations. Even poorer economies like Indonesia and Mexico did better, according to data published by the Organization for Economic Co-operation and Development.
The government heath expenditure is also low compared to other BRICS countries like South Africa, Brazil and China.
Despite allocating a lower proportion of GDP towards health compared to other countries, India has shown good results. The TB prevalence rate has come down from 466 per 100,000 population in 1991 to 211 in 2013.
Infant Mortality Rate (IMR) has registered a decline, from 58 per 1,000 live births in 2005 to 44 per 1,000 live births in 2011. There has also been an increase in life expectancy by five years, i.e., India's life expectancy has increased to 66.1 (2010) from 61.9 (2000).
Despite all these achievements, India is still far behind its neighbours. For instance, Nepal and Bangladesh have average life expectancies of 66.3 and 67.5 years, respectively. Similarly, IMR for Nepal and Bangladesh is 29.4 and 30.7, respectively.
The ratio of hospital beds per 1,000 population stood at 0.5, data put out by the OECD showed. In comparison, Russia and China have 9.1 and 3 beds for every 1,000 citizens.
As many as 682 out of every 100,000 people die from non-communicable diseases in India while the global average stood at 539, according to the 2012 World Health Organization (WHO) data.
The dismal level of investment in the health sector could be one of the reasons why India will miss the Millennium Development Goals, according to a United Nations report.
India could achieve only four of the eight MDGs, the deadline for which expires this year.
One target in the health sector that will be missed is a reduction in child mortality (or under-five mortality) rate from 140 per 100,000 live births to 109.
"The reasons behind not meeting the goals are two-fold. One, poor implementation of policies because of the federal structure of our system. Two, exponential growth of population," public health researcher Dr. Leila Varkey said.
Not only should large investments be made in health infrastructure, but primary health centres should also be strengthened, according to health researcher Dr Rakhal Gaitonde of the People's Health Movement.
Poor health indices were a reflection of the lower funds allocated to the public health sector, he added.
Although funding for 2015-16 has been increased to Rs 33,150 crore ($4.6 billion), experts still feel it is not adequate to compensate for the growth in population. "The cut in health budget by the Centre was an absolute disaster," Dr Gaitonde said.
The drop in funding adversely impacted primary health care. Central funding was crucial for small states like Himachal Pradesh, Uttarakhand and Jharkhand which run operations at the village level, a senior union health official who did not wish to be named.
"The Centre funded them to build hospitals and buy equipment; but, with a sudden reduction in the budget, now, they are struggling to maintain the facility. In fact, some states have written to us of not having funds to pay salaries," the official said.
"Some states are spending huge amounts on health infrastructure, but startling disparities exist," Dr Varkey said.
Another reason for the poor state of affairs in the health sector is shortage of government doctors.
A 2012 WHO report on global health workforce revealed that India has only 7 doctors for every 10,000 people. The WHO said the ratio should be 1:600.
The salaries that the government offers are way below the market level, said a 42-year-old Karnataka government civil surgeon, speaking on condition of anonymity.
(Ghosh is with 101reporters.com, a pan-India network of grassroot journalists. He writes on political and social impact stories.)
We welcome feedback. Please write to respond@www.health-check.in. We reserve the right to edit responses for language and grammar.
__________________________________________________________________
"Liked this story? Indiaspend.org is a non-profit, and we depend on readers like you to drive our public-interest journalism efforts. Donate Rs 500; Rs 1,000, Rs 2,000."